January 9, 2018
Models of Successful Traditional Textile Recovery and Grassroots Development in Peruvian and Bolivian Indigenous Communities
Dr. Kevin Healy, adjunct faculty member at the Center for Latin American Studies in Georgetown University, attended a conference in Cuzco, Peru as a speaker. This four-day conference, TINKUY 2017, was held from November 8 thru November 11 and brought together people from all over the world to celebrate the wealth and diversity of Latin American textile traditions. What follows is a summary of Dr. Healy's speech on "Models of Successful Traditional Textile Recovery and Grassroots Development in Peruvian and Bolivian Indigenous Communities."
Identifying Successful Programs
Professor Healy's hour-long Spanish presentation provided an explanation and comparative analysis of the work of three self-styled organizations: an Andean ayluu/municipality (Taquile Island-Lake Titicaca Peru), a cultural foundation (Fundación ASUR- Fundación para la Investigación Antropológica y el Etnodesarrollo from Andean valleys in south-central Bolivia), and a co-managed combination of NGO Centro de Investigación, Diseño y Commercialización de la Artesanía Cruceno (CIDAC) and federation of ethnic producers ARTECAMPO (Bolivian southern lowlands), which have proven over the past 30 years to be successful models of traditional textile recuperation and local development. Their programs have proven to be critically important for cultural recuperation in reversing the decline of the high-quality traditional textiles produced by rural indigenous households, especially marginalized women in various micro-regions of both the Andean highlands and Bolivian lowlands. Their successful projects for the recuperation of traditional textile quality in recent decades stand out as models of textile production in a context of an ongoing widespread textile quality decline resulting from the forces and impacts of urbanization, migration, and globalization together with continued racism and discrimination toward indigenous producers. The three organizations have used tourist markets as a strategic element in pursuing goals of community development with traditional textiles.
Cultural and Economic Revitalization Through Textiles
The indigenous weaving communities participating in these cultural revitalization programs are the Taquilenos of Peru, and the Jalq'a, Tarabuquenos, Chiquitanos, Icocenos, and Tinquipaya of Bolivia. A key objective shared by all three programs was to create niche tourist markets under their ownership and control for high quality traditional handwoven textiles to empower weavers in the marketplace. Their strategies for change shaped economic incentives for weavers and deployed other innovative methods for recuperating the high standards of traditional textile art, making it commercially available and economically viable. In addition to socioeconomic gains for participating weavers, these programs succeeded in raising the status and respect for these indigenous producers not only regionally and nationally but also internationally, as prestigious works of South American art.
Dr. Healy's presentation focused on the social processes which propelled these tourism-textile development models onward and upward over three decades. The characteristics for this process included their institutional origins and evolution over time, organizational modus operandi for engaging traditional weavers in rural communities, the all-important role of social entrepreneurship, individual and organizational skills from training workshops, the organization of local weaving and related administrative centers and niche marketing methodologies (product diversification, value-added product enhancement, product promotion etc.), the use of professional support teams, public outreach mechanisms such as textile museums, cultural research, anthropological and other cultural publications on traditional textiles, artisan fairs, and national and international exhibitions.
In the final comparative analysis, Dr. Healy discussed the varying socioeconomic, geographic, and historic contexts in which these processes of change unfolded as important explanatory variables for some of the differences among these models and for further magnifying several distinguishing features and special achievements. Their distinctive organizational forms influenced variations in operational styles and material and non-material outcomes of their institutional efforts.
Remaining Challenges
One of the biggest challenges facing local textile recovery and development programs in Peru and Bolivia is achieving and maintaining high quality textile production within the mentioned broader context of modernization. While the two Bolivian organizational models were successful in maintaining high artistic standards for their traditional textile products, the related higher overhead and operating costs incurred compelled them to attain public subsidies and private grants to complement internal financing from their own earnings. Yet their public outreach programs (museums, exhibitions, and research publications) had important educational value for the society at large, especially its educational and cultural institutions, to warrant such external support.
Image Gallery
Image Gallery
1/18
Dr. Kevin Healy meets with Peruvian weavers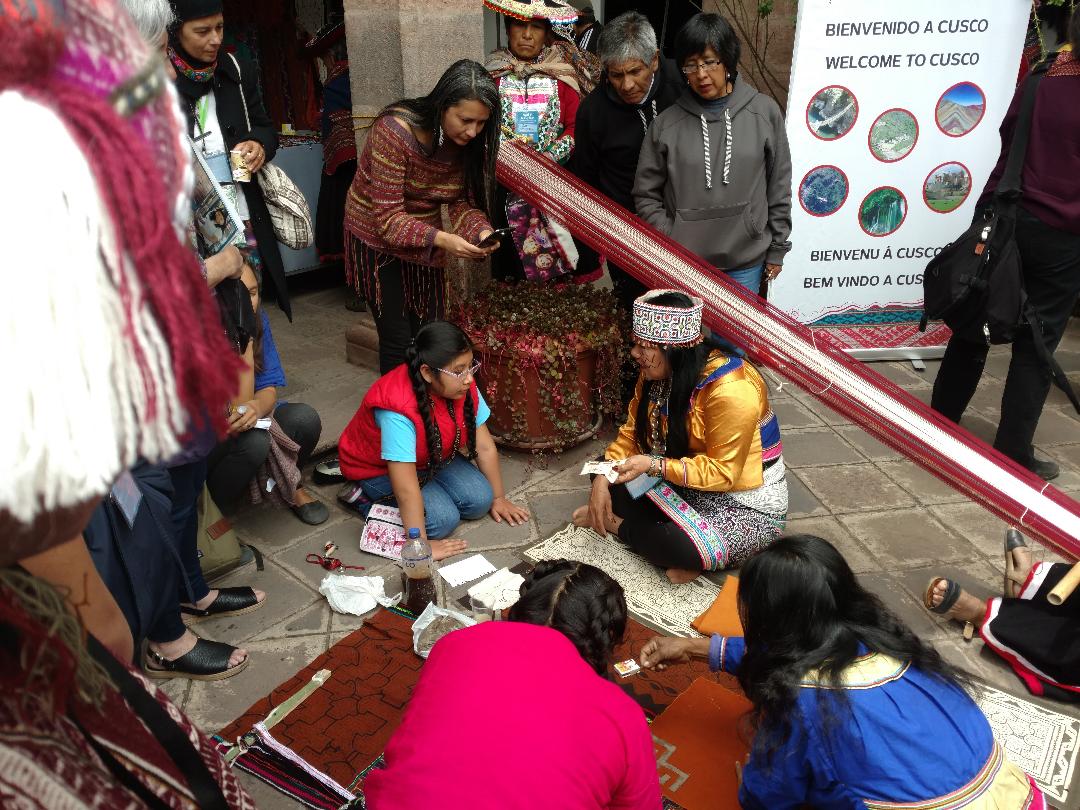 Dr. Kevin Healy presenting at Tinkuy 2017
Dr. Kevin Healy presenting at Tinkuy 2017
Dr. Kevin Healy presenting at Tinkuy 2017